Welcome to my stop on the You, Me, and the Sea blog tour sponsored by TLC Book Tours! Thanks to TLC for the invitation! This beautiful book published on Tuesday!
---
My Thoughts:
Merrow Shawe is born of the sea. She thinks it's part of her tempestuous temperament. She is raised on a farm named Horseshoe Cliff in Northern California. The atmosphere of where she lives is absolutely stunning. Not unlike that beautiful cover, there are bluffs and cliffs' edges, an alluring cove, and of course, the sea. 
Merrow's childhood is mostly a happy one, but her mother passes away under mysterious circumstances, so of course that lingers and haunts. Her brother, Bear, is outright mean and cruel, so that's a blemish on her otherwise idyllic childhood as well. 
Merrow meets Amir, who has been sent from New York, by way of India, to live with her family. Amir is not affected by Bear's nastiness, and Merrow admires his strength of spirit. 
Of course there are secrets here, and a tragedy occurs involving Amir. Merrow is unsure if she ever knew him at all. She finds herself in a dangerous and dire situation, and she has to decide if she is going to flee. 
I adored how atmospheric and original this story is. It's easy to be swept up into this story and feel right beside Merrow on those blustery cliffs! It almost feels like a different time because the setting is so enchanting. The writing here is beautiful, and the characters are vividly drawn. 
I read after I finished the book that it was inspired by Wuthering Heights, and I absolutely love that. I think Donohue captured the sense of place, as well as the emotions. 
Overall, You, Me, and the Sea is stunningly atmospheric story of tumultuous true love and how far one will go to protect family. 
I received a complimentary copy. All opinions are my own. 
---
About You, Me, and the Sea
• Hardcover: 368 pages
• Publisher: William Morrow (May 7, 2019)
From the USA Today bestselling author of All the Summer Girlsand Dog Crazy comes a spellbinding and suspenseful tale inspired by Wuthering Heights that illuminates the ways in which hope—and even magic—can blossom in the darkest of places.
To find her way, she must abandon everything she loves…
As a child, Merrow Shawe believes she is born of the sea: strong, joyous, and wild. Her beloved home is Horseshoe Cliff, a small farm on the coast of Northern California where she spends her days exploring fog-cloaked bluffs, swimming in the cove, and basking in the light of golden sunsets as her father entertains her with fantastical stories. It is an enchanting childhood, but it is not without hardship—the mystery of Merrow's mother's death haunts her, as does the increasingly senseless cruelty of her older brother, Bear.
Then, like sea glass carried from a distant land, Amir arrives in Merrow's life. He's been tossed about from India to New York City and now to Horseshoe Cliff, to stay with her family. Merrow is immediately drawn to his spirit, his passion, and his resilience in the face of Bear's viciousness. Together they embrace their love of the sea, and their growing love for each other.
But the ocean holds secrets in its darkest depths. When tragedy strikes, Merrow is forced to question whether Amir is really the person she believed him to be. In order to escape the danger she finds herself in and find her own path forward, she must let go of the only home she's ever known, and the only boy she's ever loved…

Purchase Links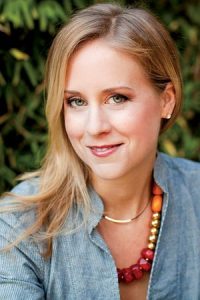 About Meg Donohue
Meg Donohue is the USA Today bestselling author of How to Eat a Cupcake, All the Summer Girls, and Dog Crazy. She has an MFA in creative writing from Columbia University and a BA in comparative literature from Dartmouth College. Born and raised in Philadelphia, she now lives in San Francisco with her husband, three children, and dog.
Find out more at her website, and connect with her on Facebook, Twitter, and Instagram.
---
Have you read You, Me, and the Sea, or is it on your TBR? Happy Reading! ~ Jennifer THR