Welcome to my stop on the Pieces of Her blog tour sponsored by TLC Book Tours! Thanks to TLC for the invitation!
---
My Thoughts:
I've only read two Karin Slaughter books, Pretty Girls and The Good Daughter. They were written seamlessly and shocked me to the core. I was a little afraid (in a good way) of Pieces of Her, wondering if it would have that same shock value. It was slightly, really just a touch, more tame, while still retaining its edginess, which was just the right sort of shocking for me, I'm thrilled to say!
Laura is Andrea's mom, living in tiny Gullaway Island. She's a speech therapist, both well-known and well-loved in town, and a friend to all. Andrea has always found her mom to be direct and honest. Until Andrea finds out otherwise. 
On a quick Saturday afternoon trip to the mall, violence erupts, and Andrea sees Laura differently. It seems that Laura had a different life thirty years prior, one she's kept completely hidden. But now the truth about her has been exposed, and everything changes as a result. 
Twenty-four hours after all that? Laura's in the hospital, shot by someone who's been looking for her for over thirty years. 
Wow, this was an in-depth and engaging mystery, and I loved every ounce of it! At its core, it's a study on mother-daughter relationships, and I absolutely loved how this aspect of the story evolved. 
Overall, Pieces of Her is a thoughtful, shocking, twisty, graphic (at times), novel; however, the characters truly make this story stand out. I'll think about them long after I turned the last page. 
I received a complimentary copy. All opinions are my own. 
---
About Pieces of Her
• Paperback: 496 pages
• Publisher: William Morrow Paperbacks; Reprint edition (May 21, 2019)
COMING TO NETFLIX!
Mother. Hero. Liar. Killer. How can you tell when all you have is…
PIECES OF HER
What if the person you thought you knew best turns out to be someone you never knew at all . . . ?
Andrea Cooper knows everything about her mother Laura. She's knows she's spent her whole life in the small beachside town of Gullaway Island; she knows she's never wanted anything more than to live a quiet life as a pillar of the community; she knows she's never kept a secret in her life. Because we all know our mothers, don't we?
But all that changes when a Saturday afternoon trip to the mall explodes into violence and Andrea suddenly sees a completely different side to Laura. Because it turns out that before Laura was Laura, she was someone completely different. For nearly thirty years she's been hiding from her previous identity, lying low in the hope that no one will ever find her. But now she's been exposed, and nothing will ever be the same again.
Twenty-four hours later Laura is in the hospital, shot by an intruder who's spent thirty years trying to track her down and discover what she knows. Andrea is on a desperate journey following the breadcrumbs of her mother's past. And if she can't uncover the secrets hidden there, there may be no future for either one of them. . . .

Purchase Links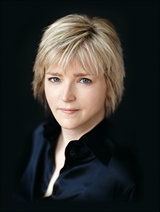 About Karin Slaughter
Karin Slaughter is one of the world's most popular and acclaimed storytellers. Published in 120 countries with more than 35 million copies sold across the globe, her eighteen novels include the Grant County and Will Trent books, as well as the Edgar-nominated Cop Town and the instant New York Times bestselling novels Pretty Girls and The Good Daughter. Slaughter is the founder of the Save the Libraries project—a nonprofit organization established to support libraries and library programming. A native of Georgia, Karin Slaughter lives in Atlanta. Her standalone novels The Good Daughter and Cop Town are in development for film and television.
Find out more about Karin at her website and connect with her on Facebook, Twitter, and Instagram.
---
Have you read Pieces of Her, or is it on your TBR? Happy Reading! ~ Jennifer THR