Welcome to my stop on the Into the Deep blog tour sponsored by TLC Book Tours! Thanks to TLC for the invitation!
---
About the Book:
href="https://tlcbooktours.com/wp-content/uploads/2021/04/into-the-deep.jpg">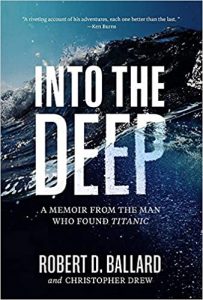 About Into the Deep • Hardcover: 336 Pages • Publisher: National Geographic (May 11, 2021) The legendary explorer of Titanic and Lusitania looks back on his life behind his famous exploits and unveils a major new discovery on the occasion of the 35th anniversary of the Titanic find. Best known for finding the wreck of the Titanic, celebrated adventurer Robert Ballard has a lifetime of stories about exploring the ocean depths. From discovering new extremophile life-forms thriving at 750°F hydrothermal vents in 1977 to finding famous shipwrecks including the Bismarck and PT 109, Ballard has made history. Now the captain of E/V Nautilus, a state-of-the-art scientific exploration vessel rigged for research in oceanography, geology, biology, and archaeology, leads young scientists as they map the ocean floor, collect artifacts from ancient shipwrecks, and relay live-time adventures from remote-controlled submersibles to reveal amazing sea life. For the first time, Robert Ballard gets personal, telling the inside stories of his adventures and challenges as a midwestern kid with dyslexia who became an internationally renowned ocean explorer. Here is the definitive story of the danger and discovery, conflict and triumph that make up his remarkable life. Social Media Please use the hashtag #IntoTheDeep, and tag @tlcbooktours.

Purchase Links
About Robert D. Ballard
Best known for discovering hydrothermal vents, the sunken R.M.S. Titanic, the German battleship Bismarck, and many other ancient and modern shipwrecks around the world, ROBERT BALLARD has conducted more than 150 deep-sea expeditions and is a pioneer in the development of advanced deep submergence and telepresence technology. Since 2008 he has managed the E/V Nautilus, his flagship for exploration, operated by the Ocean Exploration Trust and funded in part by NOAA. Among his many honors he holds the Explorers Club Medal, the National Geographic Hubbard Medal, and the National Endowment for the Humanities Medal. Find out more about him at his website, and follow him on Facebook, Twitter, Instagram, and YouTube.
---
My Thoughts:
Anyone else fascinated with stories about the Titanic? Bob Ballard is the actual explorer known for discovery on both the Titanic and Lusitania shipwrecks.
Ballard found the wreck of the Titanic. He's also known for finding new life forms at the bottom of the sea. Today he captains a ship where he continues research and trains other young scientists.
Into the Deep is his story where he shares personal details about his life. From a child with a learning disability to a legendary explorer and scientist, all the exciting and often dangerous stories are shared. What a life! I'm so grateful to have been able to read Bob Ballard's story.
I received a gifted copy.
---
Have you read Into the Deep, or is it on your TBR? Happy Reading! ~ Jennifer THR