Welcome to my stop on the America for Beginners blog tour sponsored by TLC Book Tours! Thanks to TLC for the invitation!
---
My Thoughts:
Pival Sengupta lives in India, and she is recently widowed. A year prior, her son, Rahi, told his parents he was gay and fled for California. Before he died, Pival's husband told her that their son had died.
Pival packs her bags and heads to the United States for a cross-country tour to find out about her son. She forges an unlikely friendship with her tour guide, Satya, and Rebecca, the aspiring actress who is accompanying them on the trip for modesty. 
In two weeks' time, they travel across the US from New York to California. Pival, Satya, and Rebecca begin to reflect on America as they travel.  
America for Beginners is a warmhearted tale. It is full of hope and forgiveness, and I was enchanted with the story and its characters. The author touches on issues of prejudice and immigration making this a timely read.  
Overall, America for Beginners is a beautiful read about friendship. I'm so grateful I read it and am eager to read more from this author.
I received a complimentary copy. All opinions are my own. 
---
About America for Beginners
• Paperback: 336 pages
• Publisher: William Morrow Paperbacks; Reprint edition (July 30, 2019)
Recalling contemporary classics such as Americanah, Behold the Dreamers, and The Brief Wondrous Life of Oscar Wao, a funny, poignant, and insightful debut novel that explores the complexities of family, immigration, prejudice, and the American Dream through meaningful and unlikely friendships forged in unusual circumstances.
Pival Sengupta has done something she never expected: she has booked a trip with the First Class India USA Destination Vacation Tour Company. But unlike other upper-class Indians on a foreign holiday, the recently widowed Pival is not interested in sightseeing. She is traveling thousands of miles from Kolkata to New York on a cross-country journey to California, where she hopes to uncover the truth about her beloved son, Rahi. A year ago Rahi devastated his very traditional parents when he told them he was gay. Then, Pival's husband, Ram, told her that their son had died suddenly—heartbreaking news she still refuses to accept. Now, with Ram gone, she is going to America to find Rahi, alive and whole or dead and gone, and come to terms with her own life.
Arriving in New York, the tour proves to be more complicated than anticipated. Planned by the company's indefatigable owner, Ronnie Munshi—a hard-working immigrant and entrepreneur hungry for his own taste of the American dream—it is a work of haphazard improvisation. Pival's guide is the company's new hire, the guileless and wonderfully resourceful Satya, who has been in America for one year—and has never actually left the five boroughs. For modesty's sake Pival and Satya will be accompanied by Rebecca Elliot, an aspiring young actress. Eager for a paying gig, she's along for the ride, because how hard can a two-week "working" vacation traveling across America be?
Slowly making her way from coast to coast with her unlikely companions, Pival finds that her understanding of her son—and her hopes of a reunion with him—are challenged by her growing knowledge of his adoptive country. As the bonds between this odd trio deepens, Pival, Satya, and Rebecca learn to see America—and themselves—in different and profound new ways.
A bittersweet and bighearted tale of forgiveness, hope, and acceptance, America for Beginners illuminates the unexpected enchantments life can hold, and reminds us that our most precious connections aren't always the ones we seek.
Social Media
Please use the hashtag #americaforbeginners and tag @tlcbooktours, @williammorrowbooks, and @leahfranqui.

Purchase Links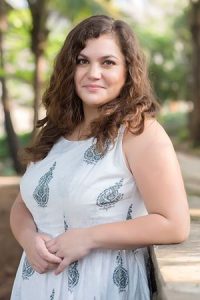 About Leah Franqui
Leah Franqui is a graduate of Yale University and received an MFA at NYU-Tisch. She is a playwright and the recipient of the 2013 Goldberg Playwriting Award, and also wrote a web series for which she received the Alfred Sloan Foundation Screenwriting award (aftereverafterwebseries.com). A Puerto Rican-Jewish Philadelphia native, Franqui lives with her Kolkata-born husband in Mumbai. AMERICA FOR BEGINNERS is her first novel.
Find out more about Franqui at her website, and connect with her on Twitter, Facebook, and Instagram.
---
Have you read America for Beginners, or is it on your TBR? Happy Reading! ~ Jennifer THR